IN MEMORIAM

NORBERT KALTER 1896-1918
IGNATZ KALTER 1897-1940


45 years ago, in October of 1952, when our young family first came to America, my cousins in New York gave me the possession left by my uncle Ignatz who had committed suicide in New York in February of 1940. My inheritance consisted of a set of hand held jewelers scales, two sets of jewelers weights, a beaver-hair shaving-brush a Gillette safety-razor, some documents, letters, and family photographs.

For one year, during the confused days of the battle of Britain, I had been interned as an `enemy-alien' on the Isle Of Man. The coat of arms of that windswept island shows three legs in a cirle and contains the inscription "Quo-umque Jaeceris Stabilis". Translated into fortune-cookie English it says: 'Where ever you are thrown you'll always land on your Feet'. This could very well have been my motto also in those days; I was young, curious and active. Personal upsets hardly ever phased me , and I tended to take a greater interest in the living than in mourning the dead. I put the shaving brush on my bathroom shelf, inserted a new blade into the razor, made a mental note of the odd collection of letters, photographs and documents, which dated from the late 18-hundreds to Hitler's Third Reich, and stashed it all in a drawer. The jewelers scales and weights I added to other memorabilia on the mantelpiece. That was in 1953, twelve years after my uncle's death.

Twenty years went by and in 1972 I was on a sabbatical in France. I lived in Bourg La Reign, south of Paris. I had few friends there, and I spent my evenings at the theater or at concerts. When the sun was shining I walked the streets of Paris and when it rained I wrote letters home and listened to the radio. On one such occasion a Hebrew dirge caught my attention. I have never attended religious services, but that lamentation got to me. I listened intently, I pressed the 'record' button and later I replayed that haunting tune over and over. It kindled a memory; I thought of my uncle and the documents he had brought with him to America.

I am somewhat of a universal dilettante: I write short stories, which I self-publish and give to my friends, I dabble in clay; my masterpieces decorate our mantelpiece. My animations are unique; My actors are little men and women made of painted acorns and pistachio nuts, held together by pipe-cleaners. They represent Orientals, Jews, Gypsies, courtiers, clowns and acrobats. They act out my stories on the siver screen. My techniques do not meet commercial standards;- but no matter - there is always a captive audience on the public cable channels and I am quite satisfied with honorable mentions at amateur film festivals.I have produced animations, nature films and scientific lectures, I have used my shows to expound ideas and philosophies; my ideas and my philosophies. To make a documentary using my uncles papers struck me as an interesting challenge.

. That documentary was to be about my uncle's tragic existence and, peripherally, to touch on events and circumstances that have shaped his life and brought about his death. Much of the stress in the last three years of his life were brought about by events then taking place in Europe as they affected the Jews of that unhappy continent.but I did not intend to make a film about the Holocaust, after all, he had left Germany and had died in the United States. I was interested in showing the impact of adverse circumstances on his fragile personality. It was to be a memorial to him.

As it turned out, my documentary was a success, it won prizes and it drew tears from many who saw it - including myself

Another 25 years have passed as I sit here at my desk to rewrite this 20th century tragedy. I have reread the remarkable selection of documents my uncle chose to bring with him. His journey to the USA should have been a new beginning, but the documents he had chosen to take on this journey illuminate, instead, the past, his past and that of the Kalter family. I was now much older myself, -57 years older since I first laid eyes on that collection- and rereading his papers in a more sensitive mood have moved me to take up the threads again. The documents now impel a broader focus on all of the tragedies and absurdities in the lives of my maternal grandparents. Many persons mentioned here, including my parents, were murdered in the Holocaust, but war and genocide are, unfortunately, universal - and so this, too, is primarily a family memento, albeit with universal overtones.

While staying with the documentary format, I have added comments from my memory to provide continuity. Where circumstances or events are inferred I will say so and give my reasoning.

_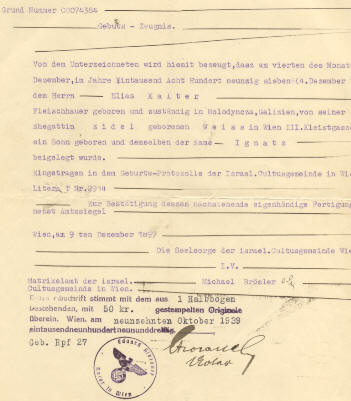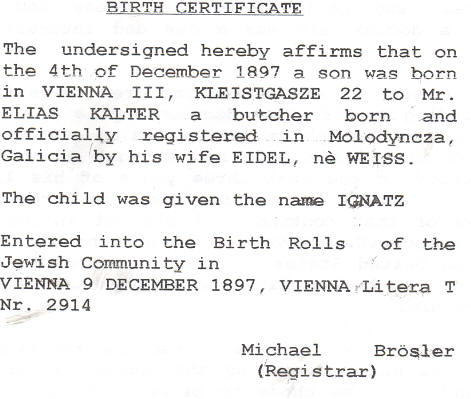 (Note; The above Birth Certificate is a copy issued by the German Authorities on 10/19/1939)
My mothers cousin, Helen Rosenfeld told me that my maternal grandfather, Ely Kalter, was one of three brothers born to my Great-grandfather, Mordechai, who probably lived in Molodincza, Galicia around the middle of the 19th century. Ely must have been born around 1870 because my mother, the eldest of the six children of my grandparents, was born in 1894. One of Ely's brothers, Usher Leib, emigrated to the United States, my cousin Helen was his granddaughter. Helen kept the family members who lived in the USA together by inviting all of us to such family events as weddings, funerals etc. Before Helen, it was her mother, Rose Unschuld, who filled the roll of family matriarch and now, that both women have died the Kalter family record has passed into oblivion.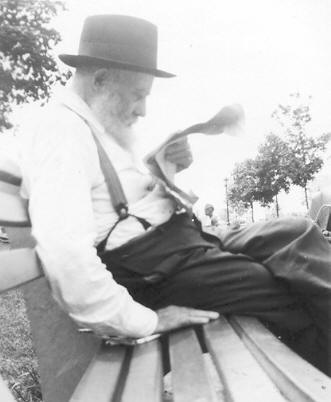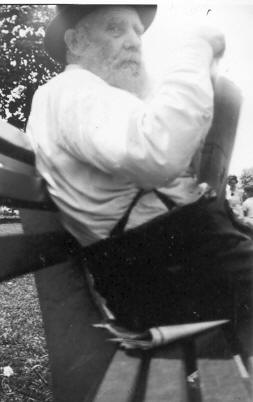 USHER LAIB reading in the Bronx, New York (about 1935)
My mother, Yetti, was followed by the eldest of her three brothers, Norbert, and he by Ignatz. My aunt Rosl was born on the first of May of 1899, and at this writing she is living in Como, Italy. My youngest aunt, Amalia, and uncle Fritz were born in this century and both died young, Fritz in the Holocaust, Amalia of medical complications of a major operation.
The birth of Norbert, and the move of the Kalter household from Galicia (then a part of the Austro-Hungarian Empire) to Vienna must have taken place during the three and one half years between the birth of my mother, in June of 1894 in Galicia, and that of Ignatz, in December of 1897 in Vienna. I do not know whether Norbert was born in Vienna or in Galicia and I do not know the exact date of his birth.
My grandfather seems to have established himself as a butcher in Vienna very quickly because family photos show him, and my grand mother, as prosperous burghers of that period and I suspect that they had some means before they came.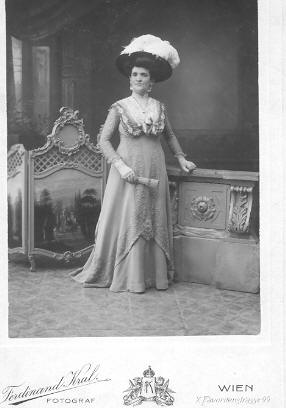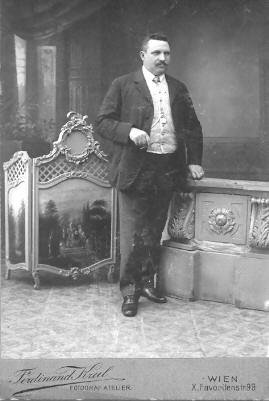 ADELE (EITEL) & ELY (ELIAS) KALTER, Vienna about 1895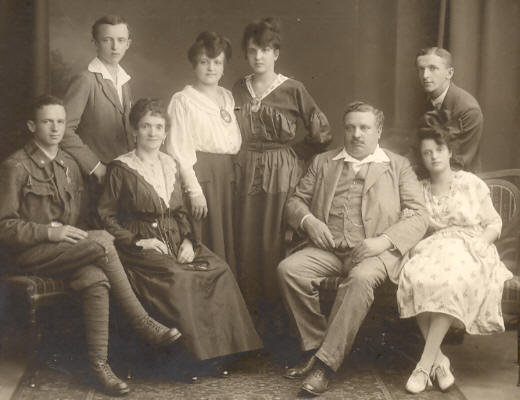 The family Kalter about June 1918
left to right:Norbert,Fritz,Adele,Henrietta (Yetti),Rosel,Ely,Ignatz,Mali (Amalia)
I. My mother gave me only rare glimpses into her childhood; She sometimes spoke of a hedgehog which my grandfather kept and of the mischief this pet got into at times. She spoke of horses and a carriage and that they took part in public parades along the Lust-Allee. I knew my grandfather as a liberal man. My grandparents observed some Jewish customs and my grandfather went to a synagogue on high holidays. None of the children went with him and they seemed to have no religious interests. All of them went to the public schools. My mother, and Ignatz spoke the Viennese dialect of German. My uncle Fritz and aunt Rosl spoke correct (" high") German, my grandfather and grandmother spoke the kind of `Yiddish' accented German probably spoken by the assimilated Jews of Galicia, and sometimes sometimes they spoke Yiddish or Polish with each other and with my mother..
Schooling must have been minimal for all of them; Norbert joined my grandfather in the business at an early age, perhaps at 15 or 16 which would make it about 1911. My grandfather had a stall in the central meat-market of Vienna where he traded en-gross and en-detail. Eventually they also opened a retail store in the 3rd district of Vienna. I was told that Norbert was at that time already a substantial help in the business.
My uncle Ignatz, on the other hand, seemed to have no such interests:.
__________________________________________________________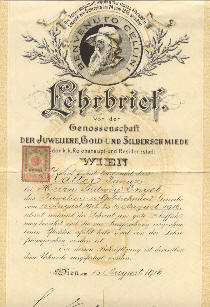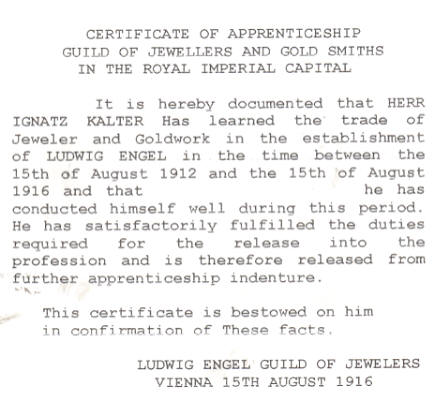 CERTIFICATE OF APPRENTICESHIP, GUILD OF JEWELLER AND GOLDSMITHS
IN THE ROYAL CAPITAL AND IMPERIAL RESIDENCY
___________________________________________________________
In those days all tradesmen had to carry a `WORK PASS BOOK' in which apprenticeship contracts, indentures, testimonials and local work and residency permits were entered and validated. Ignatz took his work book with him to the United states. It contains testimonials from other jewelers which show that he worked for various firms until December 1918. After that he probably began to work on his own.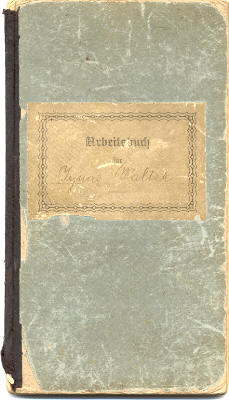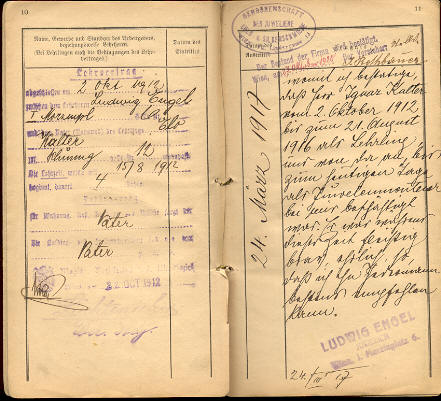 A 1916 entry (Apprenticeship Contract) in theThe WORK-BOOK of Igatz Kalter
--------------------------------------------------------------------------------------------------------------------------------------------
In 1914 World War 1 started and all able-bodied man had to undergo fitness assessments.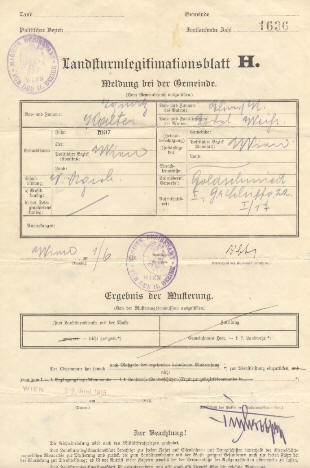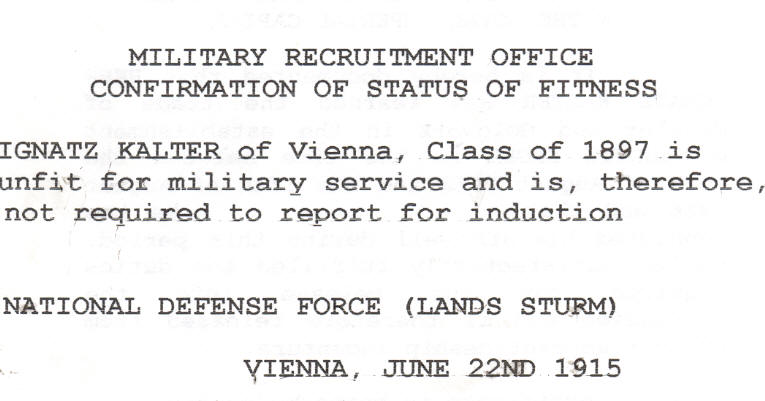 _____________________________________________________________
The document does not give the reason for the rejection but in my uncle's papers was a prescription issued by a clinic specializing in heart diseases.
I do not know when my uncle Norbert was called up. He was about 18 years old when the war started, so it could have been anytime between 1914 and 1918. The documents of my uncle Ignatz included several pieces of correspondence from that time:
There is a postcard from Norbert on the Italian Front written and post-marked on the 7th of July 1918. This was a form card with a pre-printed messages in all of the languages of the Austro-Hungarian Empire, saying "I am well and healthy"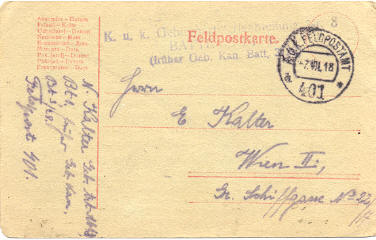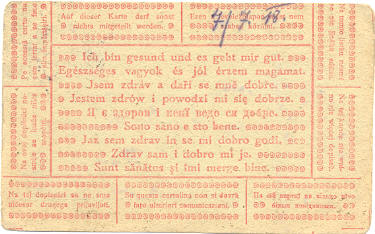 ______________________________________________________________________________________________
The second item is a field letter from Norbert to his parents and to his youngest sister, Amalia, postmarked 8th of July 1918.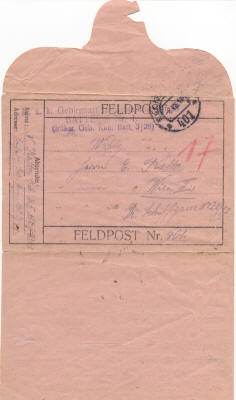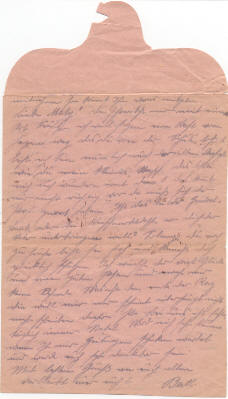 8/VII.18.
Dear Parents
I have received Yetti's letter dated the 3rd of this month and I am very happy to have received a message again after a long time. That the bread from May got bad on me that is not my doing but seems to be a consequence of your packing it while (still) warm. I am quite ready to believe that it was expensive but that is not my fault. It was more of an annoyance to me than to you because I had been waiting for it with longing - and then one gets such a mess! That (suggestion) with the little packages, that's also a bit of a problem - they just disappear immediately. But you could try that again. The ham has kept very well; I still have a piece of that - you know that I have always been a frugal guy. So, I hope the next time you send me something it will arrive in better condition.
I can imagine what is now going on in the "Hall" (Meat-Market). We are now supposed to manage with frozen meat! That'll be something! If they don't even have the few Bulls they used to allocate to us previously - A nice mess!..............
If (betimes) a certain V.(?) Hirschfelfder comes to you, you can give him a little package.............Perhaps Pluschitz will come by also; Father knows him, he used to buy a lot of meat from us. If he'll be kind enough to take something for me, you could give him something to take along.
Dear Mali (Amalia),
You write to me with a kind of sigh - I want to say (that it takes) a load off my heart that you are free of school; because I am of the same opinion as you, my little Missy (kleines Mensch). The A on the Report Card would indeed surprise me - that does not seem right to me; The professor must have made a mistake!
Is it at the "(Austrian) Central Bank" or at the Meat Market's Cash Register that Father wants to place you?? Be happy that you are still at home and consider yourself lucky. I wish you much success and do a good job - don't let me down (mach mir keine Schande) -. And what gives with Rosl? - It seems to me she does not ever want to write to me -that !!??-. Here we have nearly always fog. I would be delighted if you would send me some newspapers - I would be very grateful for that. With my best greetings to all of you BERTL.
_______________________________________________________________________________________
The third item is a post card from Amalia, written in response to the letter above. It is postmarked 22nd July 1918.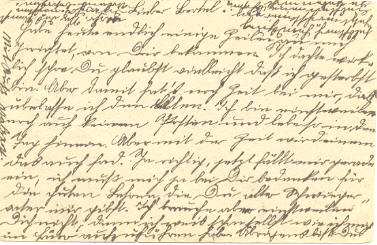 Dear Bertel
Today, finally, I got a few lines from you addressed to me! I truly thought you think I kicked the bucket (daß ich gesterbst bin). But for that, there is plenty of time - I leave that to the old folks -. In the mean time, I don't have a job jet and live for the day. But as the time passes I am getting bored with that. Well I just remembered that I must thank you for all the edifying instructions you, you old 'Father-in-law' (fuddy -duddy) give to me, but, for the time being, I don't need you - I know by myself how I have to behave in the office. Further-more you are just a puppy (hund-jung) yourself and (here you are) you like nothing better than giving me (advice). Isn't that so?? Well, you can do that on your next leave!

With a kiss; Maltschi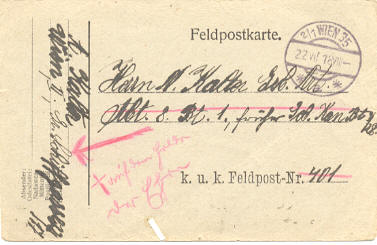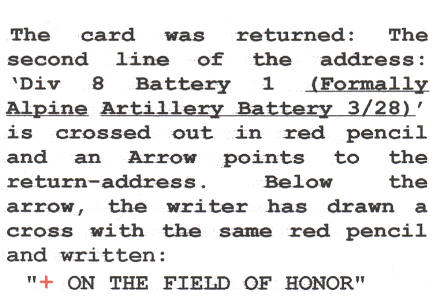 ______________________________________________________________________________________________
A week later my grandfather wrote: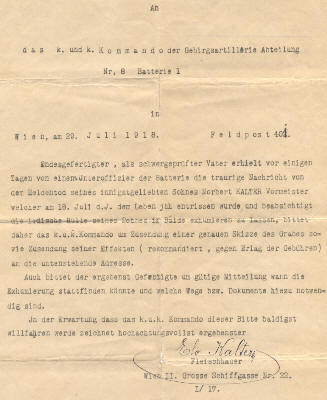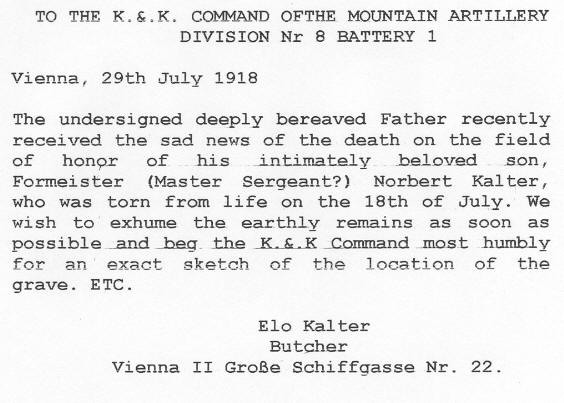 The last item is a photograph of several simple graves. Each is marked with a cross. The crosses bear inscriptions and numbers. A soldier, in the field uniform of the Austrian army, stands in front of the grave in the foreground. The number on the grave is 69. Several words of the inscription can be made out with the help of a microscope; The name Kalter and the words "Artillery, Battery".. "Div" (Abt) and "fell on the 17 of July" are legible.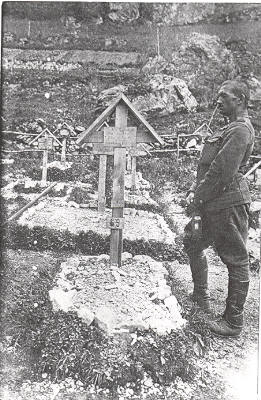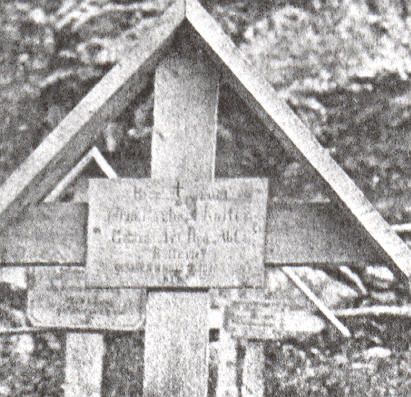 The war ended two month after the death of Norbert. The loss of Norbert and the chaos associated with the collapse of the Austro-Hungarian Empire devastated my grandfather. He never recovered from those twin disaster. He had three daughters; My mother (soon to be married) helped out at the cash-register in the meat market. At some point, probably after the induction of Norbert into the army, the shop in the third district had been closed. Ignatz, sickly and physically weak, was unsuitable for the rough and boisterous business in the meat market. Fritz was emotionallyn unstable though, probably, not a diagnosed outright schizophrenic, he was known by the descriptive Yiddish term as a `Meschuganer' (a nut). As I came to know him he considered himself an intellectual. He was rational to a point, though somewhat silly and politically radical - he, too, I am sure, was no help in a butcher's shop. Fritz, later, became an `anarchist', worked the coal mines in Belgium, became involved in the Spanish civil war, and frequently wrote home for `gifts' of $100.
My father, Emil Frenkel and his brother, Heinrich, left their parents, their sister Lorka, and a third brother, Stanislaus, at home in Galicia to make their fortunes in Vienna. My father became a buyer of flour for a bread factory and my uncle, Heinrich, sold paints. I do not know whether they came to Vienna together; perhaps Heinrich came first. I also do not know when they came, but it must have been before the war, because Heinrich married the catholic daughter of the superintendent of the apartment house where he lived, and they had a child, Viktor, who was born about 1909.
I have a letter from my paternal grandfather, Leiser Frenkel, in Lwow, addressed to my father in his army unit in Silesia, expressing his anxiety about my fathers induction. My father served in the east and earned an iron cross. I assume that my parents married sometime after the end of World War 1in 1918. I was born in 1923, aunt Rosel took over the cash register at the market after that.
Looking at the past in retrospect, the century in which the events related here took place, form a swiftly moving quilt. Empires collapsed and disappeared, fifty million men died on battlefields, technology moved from steam to nuclear power, communications from the telegraph to satellites and cellular phones. Intellectually and culturally the changes were even more fundamental; Our picture of the physical world changed from one familiar in empirical terms, to one totally outside our intuition. Isms came and Isms went in art, in literature, in politics and in the economic as well as in the social sciences. But from the perspective of a child - my perspective, say in 1930 - the world was almost static. As long as I had been aware of things, my mother, cleaned and ran the house, old Rosa Bernhauser cooked, and she, or my mother, went out shopping nearly every day. Every morning Rosa made the coffee, The baker delivered fresh rolls and Viennese Croissants, and the milkman left fresh milk at the door. Every morning my father went to his office at the product exchange and every day he came home at 1pm for lunch. Then he rested an hour and went back to his office in the product exchange building. The late afternoons he spent playing chess in a coffee-house. Once or twice a month I went shopping with Rosa or my mother, if I went with my mother we usually came to the meat market were my grandfather or his `boy', old Mr. Jäger, would buy me a hot dog while Rosel and my mother talked. If I went with Rosa B. we usually went to the church of St. Rochus where she spent a while praying on her knees. Once a month, perhaps, and on all Jewish feast-days my mother and I would visit my grandparents (my father rarely came). On these occasions I would meet Fritz, lying on the window-sill, commenting on the girls passing below. Uncle Ignatz showed us elegant jewelry and envelops filled with gemstones. There were other actors on this stage, more removed from my perspective; Heinrich Frekel and his beautiful, clever, ambitious and devoutly catholic wife, Karenina, who slowly turned the paint business into an industrial enterprise. There was Amalia and her husband, Karel Prasil. Prasil worked as a office manager for the Allianz Insurance Company. He was a Check, an atheist and a Communist -until he visited Russia and came back sick and disillusioned. There were cross-currents in the interaction of my elders but I absorbed little of that. My father, Emil and his brother, Heinrich were barely on speaking terms, so I rarely saw my cousin Viktor. Besides, he was 13 years older than I. Emil and Karel argued politics. Aunt Rosel never met a man good enough to marry, even though she looked for Prince Charming, all over Europe sometimes aided by my mother. My father was not very sociable and that kept me somewhat isolated; Events occurred that, in a more intimately bonded family, might have registered strongly with a child: Amalia died of an intestinal infection following abdominal surgery, My mother had to have a kidney removed; my uncle Heinrich died of a heart attack in his late fifties. And Rosel finally snared a minor Italian aristocrat who needed a competent pair of hands to take care of his paralyzed mother. Through it all my world hardly seemed to change; I went to school in the mornings, to the skating rink in the afternoons and to the Alps or the lakes with my mother in summer.
During these years Ignatz worked as a diamond merchant and goldsmith. He was shy, and, according to Rosel and my mother a perennial victim of alleged gold-diggers . His sisters invariable managed to rescue him from the viles of these `Vampires'. Despite his weaknesses, Ignatz was a good businessman. He was also a very good son and sibling. He supported his parents when business began to decline. He made wonderful jewelry for his sisters - and, carefully guarded by their protective zeal, he remained a bachelor!
And then, In March of 1938, the Germans marched in and things suddenly changed for all of us:
The general events that occurred after the Germans started their march toward war, such as `Kristallnacht' and aged Jews scrubbing pavements under the bullying of brownshirted thugs, are well known. The documents my uncle brought with him to the United States of America illuminate one persons experience and show the degree of arbitrary harassment and chicanery people had to go through.
All Jews, for example, were obliged to accept an additional given name: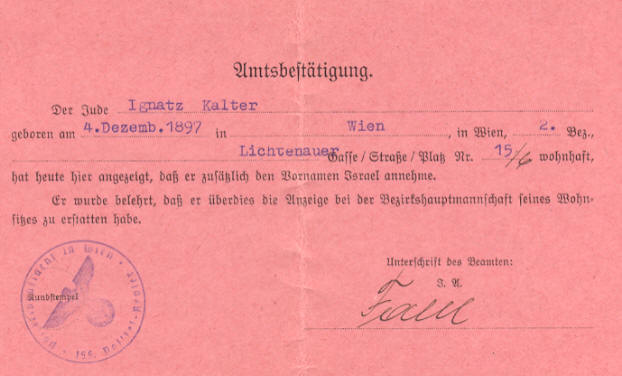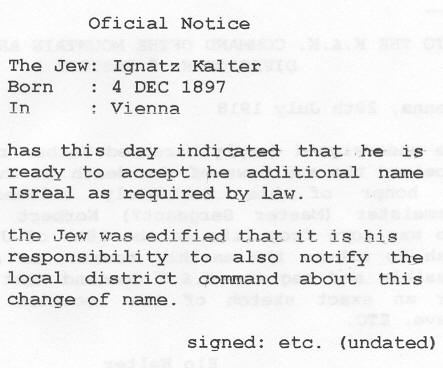 ______________________________________________________________
Many Jews were placed into the dreaded Concentration Camps of Dachau and Buchenwald. These were not the notorious extermination camps like Auschwitz but people returned from there broken men and often died as a consequence of their incarceration. My Uncle escaped that fate but his property was confiscated:
__________________________________________________________
From: Ignatz Kalter Vienna 8 July 38
Gr. Schiffgasse 22

TO THE GESTAPO
VIENNA

On June 29th of this year my entire fortune, about RM 14,000 was confiscated during a raid on my apartment. I was not given a reason for this action and, as far as I know, no cause (for such an action) against me exists.
I therefore request most politely that my confiscated property be released to me. I note that I have never engaged in any political activity and that I have a good reputation and owe no taxes whatever.

I need my property to continue my business and I also have to care for my indigent parents. Furthermore I take the liberty to mention that a brother of mine fell in the War.

I plead for a favorable consideration of this request.

______________________________________________________

This letter did not result in any action on part of the authorities, as is evident from a second letter below.

_________________________________________________________

TO THE SECRETE STATE-POLICE

Subject: REQUEST BY IGNATZ K A L T E R
GOLDSMITH, in VIENNA II Gr. SCHIFFGASSE 22/17

On June 29 officials of the Gestapo confiscated my entire fortune consisting of a savings book of the City of Vienna with deposits in my name of RM 6000, Cash of about RM 12,500. and jewels worth about RM9000.
I have made repeated representations, including a request addressed to Reichscomissioner Bürkel.
A few days ago I received a phonecall from the GESTAPO
but in the matter of the simultaneous confiscation of my father property at the same address. I was asked for our nationality. I have not received any other communication
I find myself in a state of extreme penury and I ask that, while the matter is under investigation, at least part of the funds be release or placed in a controlled account from which I can draw small amounts for the daily needs of my family.
In view of the extreme urgency of our situation I most humbly request a quick consideration of the matter.

Signed Ignaz Kalter

__________________________________________________________________________________________

This request for a controlled account (Sperrkonto was probably granted as is evident from a later document, (see 9th November 1939 below), in which he lists his total property as RM8000 `on a controlled account at the Kreditanstalt'. The jewels, apparently, were never restored to him. In any case, for the immediate future he was left without any means. The next blow was not long in coming; Like most Jews who had a license from a Guild to practice a trade he was forced to give up his profession and deprived of his livelihood:
__________________________________________________________________________________
GUILD OF JEWELERS AND WATCHMAKERS
OF VIENNA
8th August 1938
To: Ignatz Kilter

Your note of 18th August concerning your membership In this profession is not acceptable. In resigning from the profession, you must surrender your license to practice the trade to the district commander who will then will take official notice of the cancellation of your license.

H E I L H I T L E R !
(Signature, official stamps and endorsements)

__________________________________________________________________________________________

Having lost his fortune and his means of making a living, Ignatz had no choice but to try to emigrate. The only relatives the Family had abroad were in the USA and the Quota-System for immigration visas was based on place of birth. My uncle was born in Vienna and so had a better chance to emigrate to the USA than my parents, who were both born in Poland.

There are very few documents in this collection which illuminate his efforts to emigrate but he must have obtained an affidavit of support from our relatives in New York and he must have had contacts with the US consulate. In any case the first document bearing on this matter is a certificate from the Jewish Community of Vienna affirming that:he is a full Jew and henece not subject to mlitarye sevice:
_____________________________________________________________________________________
Vienna 3rd September 1938,

FOR THE PURPOSE OF REPRESENTATION TO THE MILITARY AUTHORITIES:

In accordance with documents presented and on record in this office, it is hereby certified that Ignatz Kalter is a full Jew and therefore exempt

_______________________________________________________________
This document bears a stamp of the Military District Command and the hand-written remark : `Emigration Permitted'
_______________________________________________________________

0FFICE OF THE REICH'S COMMISSIONER Vienna, 3 July 39
FOR THE REUNIFICATION
OF AUSTRIA WITH THE GERMAN REICH

You are requested to appear at office # ..in the
Parliament Building.
etc.
_____________________________________________________________________________________
This document does not state its purpose but it is likely that it concerned matters of emigration.
At this point the record takes a very ominous turn and the action accelerates toward the end of the year 1939.
He received the following letter (presumably from the Jewish agency handling deportations for the German State):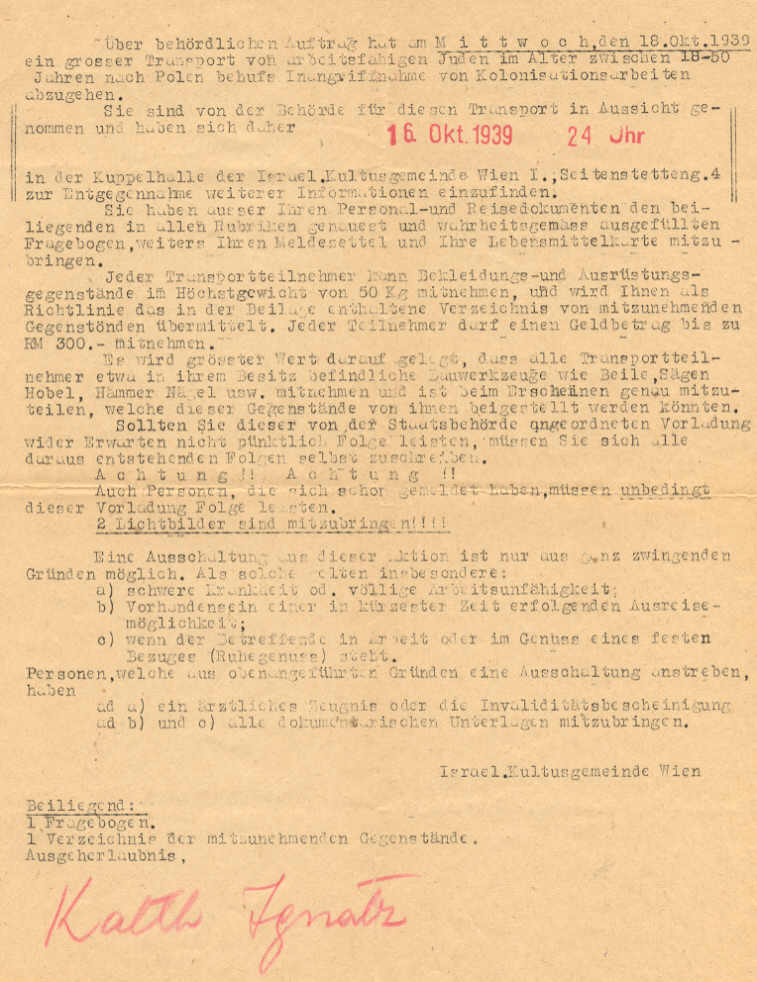 (right click on the image for a full size scan of the original mimeograph)

_____________________________________________________________________________________
By order of the (German) authorities a major transport of able-bodied Jews between the ages of 18 and 50 is to take place on Wednesday October 18th 1939. (18.X.1939) You have been earmarked by the authorities for that transport.

Accordingly, you must present yourself in the great hall of the Isrealitic Community Building at 12h midnight on 16th of October 16th....................
_______________________________________________________________________________________

There follows a list of instruction about the things people need to bring and things they are permitted to take along. Then there follows a warning:
____________________________________________________________________________________________

Should you, against all expectation, fail to obey this request to present yourself promptly according
to these instruction, you will have only yourself to blame for the consequences arising from such failure!
____________________________________________________________________________________________

The documents goes on to lists a number of conditions under which persons requested to present themselves may be excused:
______________________________________________________________________________________________
a) Persons suffering a severe illness and totally
unable to work.

b) Person having an immediate prospect to emigrate

c) Person having firm places of work or pensions

All such persons are requested to appear with the
relevant medical certificates, or, respectively,
with complete documentation of the circumstances
justifying the exemption they are seeking.
_________________________________________________________________________________________

Those who went without an excuse almost certainly went to their graves. Evidently my uncle had a possibility to emigrate and got a reprieve - but there were problems that he needed to overcome and Bureaucratic requirements he had to satisfy. Until all these imoeratives were taken care of, the danger of deportation persisted: For one thing, he had no money:
_______________________________________________________


FROM: Ignatz Kalter Vienna 20 October 1939 2. Lichtenauerg. 15

To the OFFICE FOR Jewish Emigration

V I E N N A
Prinz Eugen St.
Serial #. 60553/18.X.39

In Connection with my passport application you have
assessed me
RM. 700.--

In view of the fact that my fortune has been confiscated by the GESTAPO I would ask you kindly to apply for the release of these funds there: Department II E. Room 401.
My medical exam is scheduled to take place at the end of the month. I therefore beg that the matter be dealt with forthwith.
_________________________________________________________
When I looked at the letter above closer, it occurred to me that the address was that of my parents and the typewriter probably my mother's. Evidently my parents and grandparents had been forced to share the small apartment into which my parents and I had been obliged to move soon after the Germans marched in. I had left Vienna on a children's transport for England in June of 1939. My parents had arranged my departure through a mutual friend in Oxford, via the Society of Friends (Quakers) in England. My parents, having saved my life, had apparently decided to stay in Vienna with the helpless parents of my mother and to assist Ignatz in his effort to emigrate. My father had no illusions about his prospects for survival - he had told me, during the last leave taking at the railway station, that he had no hope that we would ever see each other again.

I also noted that the Serial # above, contains the date: 18.X.1939, same date given in the document above summoning Ignatz to present himself for deportation. The most probable explanation is that the lists of people earmarked for deportation, but excused on condition that they would emigrate, were kept by the German authorities to keep pressure on such persons.

A document dated 21 October 1939 issued to Ignatz by the Police-Presidium of Vienna confirms that he duly reported all changes of address to the authorities. This document (not shown here) show how many steps he had to undertake under pressure to satisfy legal requirements for his emigration:

For his steamship tickets he needed foreign exchange because at that time the German currency was not convertible:
___________________________________________________________


To the OFFICE of the DIRECTOR VIENNA 29. October 1939
ISREALITIC COMMUNITY
V I E N N A
1 Seitenstetteng 4

To Mr Ignatz Kalter

In accordance with your request we hereby inform you that your application for the allocation of $ 250 (RM 3125) for Passage and Freight has been registered here. The processing of this matter will be initiated upon approval by our supervisory authority.


Foreign Exchange Information Office
Isrealitic Community Office
Signed: Gustav Isralel Springer

______________________________________________________________________________________

3.November 1939
FINANCE OFFICE VIENNA
stamp of the
Central Office
for
Jewish Emigration
T A X R E L E A S E

This office has no objections to the emigration of Mr. Kalter

signature and stamps

___________________________________________________________
The next document is a statement by Ignatz about the current state of his finances and a statement concerning his intention to emigrate;

__________________________________________________________
Ignatz Kalter
2.Lichtenauerg 15
9.November 1939

STATEMENT of PROPERTY

I own a Sperrkonto of RM 8082.41 at the Kreditanstalt. I have no other financial means.

I am a non-Aryan and will emigrate
_________________________________________________________
The addressee of the above letter is not given, but a passport was issued on the same day (9. November 1939). Possibly he needed the statement above to get approval to recover the money in his blocked account and the passport.

The passport exhibits a large red J (for Jew) prominently next to the picture of the bearer. An identity card, also marked with a large J was issued on November 29. Why he needed a new identity card after he got his passport is not clear.

PAGE 2 OF PASSPORT FACE OF IDENTITY CARD
CLICK FOR PAGES 4&5 CLICK FOR PAGES 2&3

A steamship ticket 3rd class for passage on the Vulcania bound for New York was issued to him on the second of January of 1940,
The embarkation document # 57601 was issued the 3rd of January in Trieste on the Vulcania bound for Dubrovnik, Patrasso, Napoli, Palermo, Lisboa, Azores via Gibraltar. He arrived in New York on the 17th of January 1940 and was issued an immigration card by Immigration Inspector J. Smith bearing the number 1129816.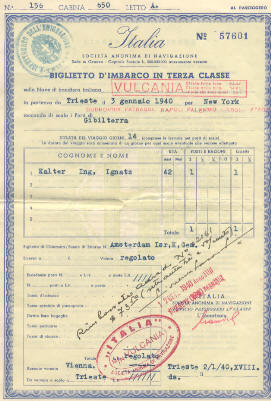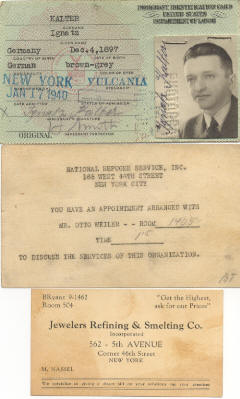 My Uncle was taken in by our cousins in the Bronx. By Rose Unshuld, a daughter of Usher Laib Kalter, brother of his father, Elias. She had sent him the affidavit of support which had made his emigration possible. She now had a dispirited relative on her hands who spoke no English and only a smattering of Yiddish. Life in New York was hard and people had their own daily struggle to contend with, but Rose Unshuld and her children, Helen and Ben probably did their best, given the problems of language, to encourage him to start a new life. He went to the National Refugee Service on 165 WEST 46TH STREET and to job interviews the Refugee Service arranged for him. Appointment cards (see above) for these interviews are among his papers.
My uncle had never been away from home and from the support of his parents and of his siblings. He had the photographs of his parents, of his sisters, of my parents, of the grave of his fallen brother and the letters from and to the front and all the rest of the documents cited here. Apart from the appointment-card for job-interviews, there is not a single document, book or letter referring to a new life and less than three weeks after his arrival in New York Ignatz turned on the gas in the apartment of our cousins in the Bronx and committed suicide.
The documents given to me included the bill for his funeral. It was payable to the Park West Memorial Chapel Inc. and came to
$239.10 the last officially recorded item pertaining to my uncle's existence in this world is the New York State Tax in the amount of $0.60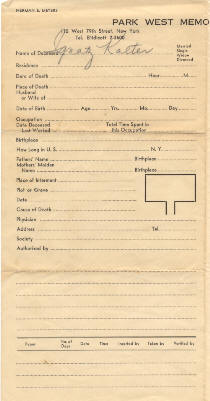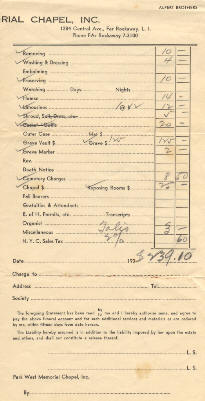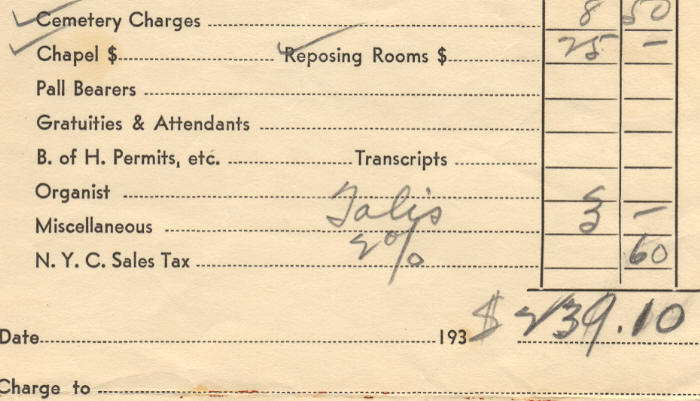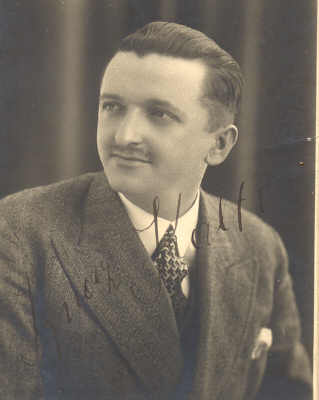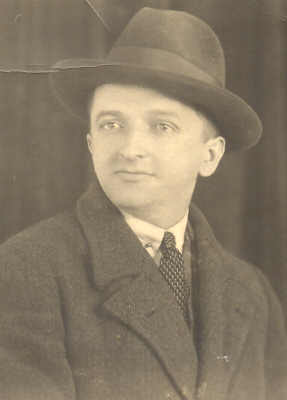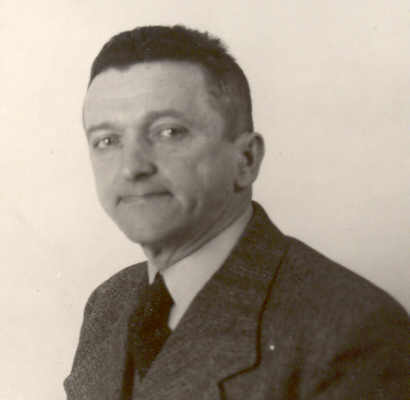 IGNATZ 1918 CIRCA 1925 CIRCA 1935 1940
I was fifteeen years old when I came to England and I spent the war years working there. In 1946 I got a position as a court interpreter at the Nueremberg War Crimes Trials and in 1948 I met Anita Schroeder, a German correspondent at the trial of Otto Ohlendorf, commander of the SS special contingent in charge of Jewish extermination. We met in the courtroom and married shortly after our first encounter.
Ten years after Ignatz's death, Rose Unshuld sent affidavits of support for me, for my German wife and our first child to enable us to come to the US.